Please note: The permanent exhibition will be closed until approximately 2025 due to modernisation. Visit our "old" permanent exhibition here.
***
The Botanical Museum Berlin.

The Botanical Museum is not merely a supplement to the green garden. There is no other botanical museum of this kind in Central Europe. Here you may find fossil treasures that are hard to see in the open air.
Small becomes large – Discover through enlarged scale models structures that are invisible to the nude eye. 
Large becomes small – the world does not only fit in a single garden, but even in a shoebox. Look at vegetation types and observe whole habitats simply through a glass.
Plants that you can only observe for a few weeks or, in some cases, for a single day in the garden, can be observed undisturbed the whole year in the museum. 
Books of inestimable value and unique botanical findings are collected and archived here. Observe, marvel, analyze – the history of botany comes here to life.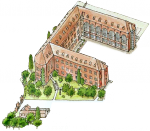 The museum is situated at Königin-Luise-Str. 6-8. 
This buildung does not only house the Botanical Museum but also the advice service on wild mushrooms, the library, the scientific collections such as the herbarium, laboratories for research and also a part of our staff