CORONAVIRUS (COVID-19) Information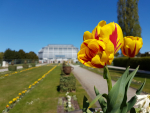 ADMISSION
Please wear an FFP2 mask in the greenhouses.
Sale & renewal of annual tickets is currently only possible at the entrances.
If you have any questions about the ordering process, don't hesitate to contact tickets@bo.berlin.
VISITOR REGULATIONS:
Garden time for all – being responsible and keeping a distance!
Please be sure to keep a distance of 1.5 m (5 feet) from persons of another housholds at all times.
An FFP2 mask is recommended inside the greenhouses and at designated places in the Garden, for example in the checkout area and in the sanitary facilities.
Need a break? Sitting on our benches is allowed with a 1.5 m (5 feet) distance. On the lawn please keep a distance of 5 m (17 feet)!
Please also observe the notices on site.
Otherwise our general visitor guidelines apply.
The Garden's café and restaurant are open. Details
FOR YOUR SAFETY
We have implemented higher hygiene standards:
Toilets will be cleaned more often
You will find information on the general hygiene recommendations to avoid infection on site
Staff will control regulations throughout the Garden
EVENTS
Public guided tours take place. Details
The Berliner Staudenmarket cannot take place at Botanic Garden Berlin at the moment - feel free to visit the virtual perennial market: www.berliner-staudenmarkt.de
Botanische Nacht 2022 will take place on July 15 and 16, 2022. Info and tickets: www.botanische-nacht.de
PHOTO/VIDEO PERMITS and FACILITY RENTAL
Photo shoots and filming are possible in the greenhouses and outdoor area (for more information check our German website here).
Please understand that we do not rent out any of our venues until further notice.
We are monitoring the situation on a daily basis and are in close consultation with the responsible authorities
As the situation changes, we will update these pages accordingly, so please check back before your visit.
---
SUPPORT THE BOTANIC GARDEN IN THE TIME OF CORONA
We are very pleased to be able to reopen the outdoor facilities - and thus give Berliners back a place to breathe, enjoy nature and relax. Unfortunately, more security also means more costs - because employing more staff and limiting the number of visitors leads to significantly higher expenses with less income. Also several weeks of closure and cancellation of events such as the Berlin Staudenmarkt has already led to heavy losses. "We are therefore currently particularly pleased when Berliners support their capital city garden in the Corona crisis – with their visit or perhaps even with a donation. And of course we wish everyone a carefree time out in our Garden, which is currently in full spring bloom", says Director Thomas Borsch.
Donate easily by bank transfer:
Freie Universität Berlin
DE35 1007 0848 0512 1587 00
DEUTDEDB110
Intended purpose: Fund 0459007102, Botanic Garden
Donations to the Botanical Garden and the Botanical Museum Berlin are tax deductible. From a donation amount of 200 € we always issue a donation receipt. For this we ask you for your postal address. For donations of less than 200 €, a copy of the remittance slip as an attachment to your income tax return is sufficient for the tax office.